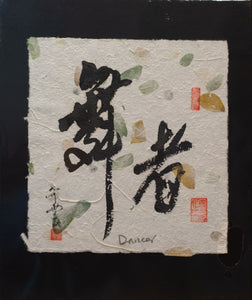 Kevin Liang's Art Gallery
Dancer
Regular price
$30.00
$0.00
Unit price
per
Chinese calligraphy on hand made paper 13" x 16"
The poem is on the back.
 Dancer--Kevin Liang
She moves like wind,
whispering in melodies
a breath of air for me
to breathe.
Dancing cross blades
of brown and green
as moonlight glistens
on eyes serene.
Tiny wind-dancing feet
float and fly,
so graceful, so dear
right by my side
and relax.
---